Hollywood lives and dies by the blockbuster. Sadly, plenty of them lack originality. It seems that for making a profit, the majority of producers repeat the same formula over and over. From time to time, we witness a rara avis. The peculiar specimen we discuss in this article is Annihilation.
Paramount's lack of faith in  Annihilation led to problems releasing this film. Actually, it only had a theatrical roll-out in China, Canada, and the USA. The rest of the globe had access to the movie via Netflix as Paramount sold the rights to recoup its budget. But we aren't here to explore this episode of Paramount. But we encourage Paramount to make more films like Annihilation instead of less.
The cast is filled with brilliant actors: Natalie Portman, Oscar Isaac, Jennifer Jason Leigh, Gina Rodríguez and Tessa Thompson. It is surprising how they fit perfectly in their roles. Rodríguez delivers a remarkable performance despite being out of her comfort zone. The rest of the cast make a superb display as expected, with believable characters, giving genuinely human performances. What can be expected from a cast of Oscar and Golden Globe winners and nominees?
Another impressive feature is how it fuses a wide range of genres: terror, sci-fi, action, romance, and thriller. This film shouldn't be labeled in any particular category, but an "organic" picture. Alex Garland constantly adapts the tone of the movie to the circumstances. There isn't a dominating approach to the action. Thanks to this, Annihilation doesn't feel monotonous at all. It masters every one of those genres flawlessly. Maybe the action sequences aren't as brilliant as the rest of the film, but they are still shot at an intelligent level. Those constant changes of genre allow the filmmaker to keep a unique pace of action. The spotlight goes from fighting greatly-designed creatures to finding out horrifying videos about the missing patrol.
Two refreshing features of Annihilation are its non-lineal storytelling and its open ending. Garland didn't create these two concepts, but they are always welcomed. Another remarkable aspect of the film is its visuals, the design of the environment and FX. Most takes are true masterpieces, with few movies attempting anything close to this level. Simply jaw-dropping.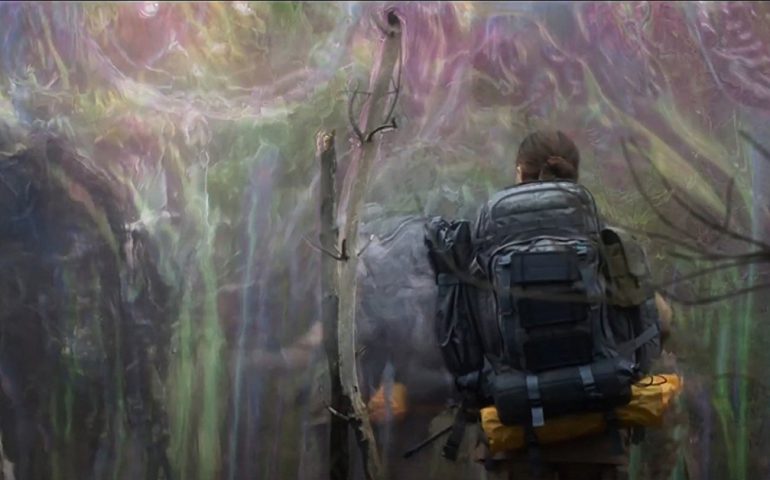 Producers should study in depth Annihilation. They could learn from it and reinvent the industry. We can only wish that the future will bring more films like this one.