"Available for $4.99, each 100-page anthology features all-new stories written exclusively for these books by some of DC's top creative talents," reads the official press release. "Each title will also include additional story arcs drawn from fan-favorite DC eras such as the New 52, Rebirth and the New Age of DC Heroes."
Writer Brian Michael Bendis will begin a 12-part Batman story in September, while Tom King will begin a 12-part Superman story the same month.
Yep! Yep! Yep! The next story of BOOM! Studios WWE comic, #18, is all about the "Kami" duo of Kevin Owens and Sami Zayn.  (Thanks...
After playing the slow burn for so long, Black Hammer: Age of Doom #3 makes some huge moves for the series and sets up an epic confrontation.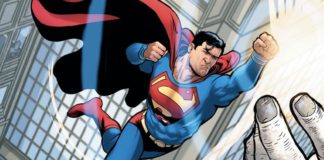 The Man of Steel is able to blend action and emotion in this week's issue. Last week's issue of The Man of Steel went for...
MISTER MIRACLE #9 marks the beginning of the end for the series, as the war between New Genesis and Apokolips winds down.
Odinson takes the main stage this week in Thor #1 written by Jason Aaron with art by Mike Del Mundo.My comic book tastebuds were...
As part of his new deal with DC Entertainment, Geoff Johns will be writing a new Shazam! comic this fall.
Bloodshot Salvation #10 starts "The Book of Revelations" story arc, and throws Ray two thousand years into the future to 4001.While Bloodshot navigates the...
The Whisper Wave 1 is an independent anthology comic compiled and illustrated by Jamie Jones, with stories written by Jones, Vita Ayala, Matthew Jones, Ryan...
Cyborg #23 is out next Wednesday, June 6th, and we have your first look at the comic courtesy of DC Comics!The issue is chapter...
We caught up with writer Donny Cates at MegaCon 2018 in Orlando and talked all things VENOM! Read on to see what Donny's going to add to the Venom mythos, why Venom is Spider-Man's true arch-nemesis, and more!
Dan Slott's run on AMAZING SPIDER-MAN is almost over, and issue 800 is a massive, action-filled reminder of everything that makes Spidey great.
Han Solo can claim the Millennium Falcon made the Kessel Run in twelve parsecs, however his movie is gonna need more time to make...
BLACK HAMMER: AGE OF DOOM #2 focuses a lot on worldbuilding, as we learn more about the various pockets of this universe. But we still don't have a clue what's going on.
Scales & Scoundrels, the fun, all-ages fantasy series by Sebastian Girner, Galaad, and Jeff Powell, is celebrating its third arc with variant covers riffing off popular role-playing card games like Magic: The Gathering, and Monkeys Fighting Robots has your first-look at the covers courtesy of Image Comics!
Ice Cream Man by W. Maxwell Prince, Martin Morazzo, and Chris O'Halloran is a special kind of creepy, and Image Comics has provided Monkeys Fighting Robots with an exclusive reveal of the variant covers for issues six, seven, and eight (because we don't want you to sleep at night).
BLOODSHOT SALVATION #9 takes a break from the ongoing narrative to tell a one-off story about everyone's favorite weaponized dog, Bloodhound.
Writer and artist Steve Skroce (along with colorist Dave Stewart and lettering by Fonografiks) has truly given comic book readers a series they'll never forget with Maestros. It's already been nominated for a 2018 Eisner Award in the "Best New Series" category, but we think it will continue to grow from there.
The art Jared Cullum creates for this issue is inspirational. The use of a water color art style is often hard to prepresent properly in comics without the execution being a distraction. Here, Collum's work presents the world of Fraggle Rock almost like a fusion between the live-action and the animated series.